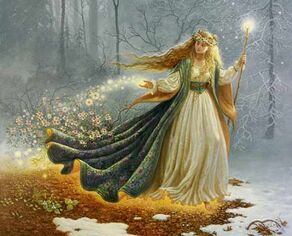 Dodola
(also spelled
Doda, Dudulya and Didilya
, pronounced: doh-doh-la, doo-doo-lya, or dee-dee-lya),
Perperuna or Preperuša is an old Slavic tradition.
According to some interpretations, she is the Slavic goddess of rain, and the wife of the supreme god Perun (who is the god of thunder). Slavs believed that when Dodola milks her heavenly cows, the clouds, it rains on earth. Each spring Dodola is said to fly over woods and fields, and spread vernal greenery, decorating the trees with blossoms.
Ad blocker interference detected!
Wikia is a free-to-use site that makes money from advertising. We have a modified experience for viewers using ad blockers

Wikia is not accessible if you've made further modifications. Remove the custom ad blocker rule(s) and the page will load as expected.