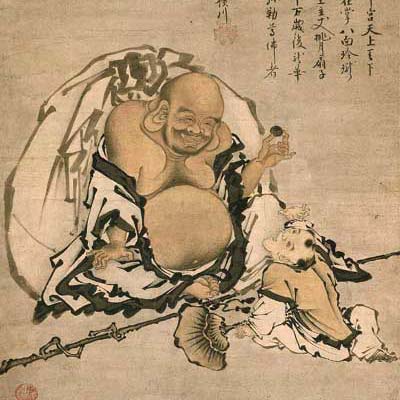 Budai
or
Pu-Tai
(Chinese: 布袋; pinyin: Bùdài), or
Hotei
in Japanese,
Bố Đại
in Vietnamese, is a Chinese folkloric deity. His name means "Cloth Sack," and comes from the bag that he is conventionally depicted as carrying. He is usually identified with or seen as an incarnation of Maitreya, the future Buddha, so much so that the Budai image is one of the main forms in which Maitreya is depicted in East Asia. He is almost always shown smiling or laughing, hence his nickname in Chinese, the
Laughing Buddha
(Chinese: 笑佛).   Many people confuse Budai with Gautama Buddha.
Ad blocker interference detected!
Wikia is a free-to-use site that makes money from advertising. We have a modified experience for viewers using ad blockers

Wikia is not accessible if you've made further modifications. Remove the custom ad blocker rule(s) and the page will load as expected.