Mokoš
(Old Russian
Мокошь
) is a Slavic goddess mentioned in the Primary Chronicle, protector of women's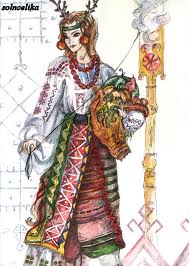 work and women's destiny. She watches over spinning and weaving, shearing of sheep, and protects women in child birth. Mokosh is the handmaiden of Mat Zemlya.
Mokoš was the only female deity whose idol was erected by Vladimir the Great in his Kiev sanctuary along with statues of other major gods (Perun, Hors, Dažbog, Stribog and Simargl).
Ad blocker interference detected!
Wikia is a free-to-use site that makes money from advertising. We have a modified experience for viewers using ad blockers

Wikia is not accessible if you've made further modifications. Remove the custom ad blocker rule(s) and the page will load as expected.